PURPOSE:
Developed in early 2003 and patented in August of 2005 US 6,931,971 B2
1.0 In an effort to reduce setup time, this device enables the operator to mount the jaws on his lathe at the proper location the first time every time, thus saving  setup time.
2.0 When boring new jaws, the laser can locate the jaws so you can take the least amount of material for boring jaws. It does not matter if the are bored through or stepped.
As seen on CNC Concepts Inc.——–Laser Jaw Setter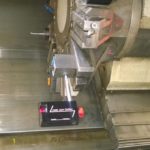 mount to turret using standard mag base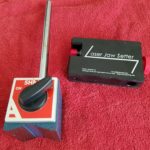 shows standard mag base that is used with the Laser Jaw Setter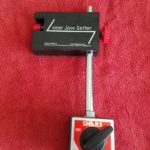 shows Jaw Setter attached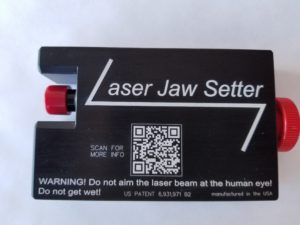 This particular laser module is rated at 5000 hours of operation.
Instructional video will be released soon. Below is a reference of the steps taken to mount the jaws. As operators use the device more frequently, they will get a good feel for mounting jaws in the proper location on the first try every time. The Laser Jaw Setter can also be used for setting up new jaws for machining.
if setting up OD jaws, chuck should be in open position
place laser on turret as shown in picture
using HANDWHEEL, position red laser dot on known diameter on the face of the chuck, such as ID bore or face groove.
on control, key in the actual diameter that is the bore or face groove of known diameter.
HANDWHEEL to desired clamping diameter plus .100, for example if you need to clamp on 4.0 OD of part, set red laser dot at 4.1 on CNC control.
slide jaws up to red dot of laser and repeat for each jaw, snugging down each jaw.
before moving laser, actuate clamping of jaws and watch the red dot for stroke distance.
Open jaws and place part in jaws to see if the part fits,  if all is well, tighten bolts with proper force.