There are some very obvious ways to reduce setup times on your cnc equipment. In my opinion, some of the most obvious reasons setups take so long:
no setup documentation (setup sheets)
tools not specified prior to release to floor
looking for inserts
proper torx wrenches-standard or plus
proper collet sizes
time wasted looking for drills, taps, endmills etc.
operator not trained on setup techniques
setup items not standardized
consider doing a 5S !!!
Nice idea for a setup cart for a cell or department.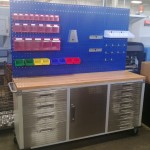 This setup will help with setup reduction time.
Best practice to organize jaw inventory.
Use your 3 jaw chuck to hold 5C collets if you need some fast changeover on short run lots. You will need to bore the jaws to the contour of the collet shape but this is a nice quick way to run thru multiple setups in a quick fashion.
To add table space and reduce setups on a small to medium vertical mill you can add a 4th axis to the machine. You can configure these in different fashions to meet your production needs. Here are a few ideas for using the 4th axis to reduce your setup time on a mill.